Welcome to the Parrot Trust Scotland Website
This charity (formally called The Island Parrot Sanctuary) was founded in 2009 and registered with OSCR (the Office of the Scottish Charity Regulator) in 2010. It was previously located on the island of Kerrera, Scotland however the high costs of island life and difficulty of emergency access proved to be unsustainable, so the charity relocated to the Scottish mainland in 2015. With this change of location, the new board of Directors decided to officially rename the charity to Parrot Trust Scotland (SC041254) in 2016.
Under this new direction, the Directors worked closely with OSCR, Companies House and HMRC, vets, and animal welfare authorities to ensure not only the best possible future for the parrots but that the required governance and frameworks expected of charities are in place.
The charity aims are as before, that is, parrot's health, happiness and welfare. Our mainland base and new identity allows us added direction of more accessible education, parrot owner support as well as a very active rehoming programme. It also provides renewed enthusiasm to progress with raising the charity profile, fundraising and networking, not only in the UK but worldwide.
One of our main future goals is to develop a purpose-built facility in Scotland's central belt for our bonded flock of parrots to live out their lives. This facility will also provide public information, education and the opportunity to become a centre of excellence that our current parrots and any others who may come to us in the future deserve. This will obviously take considerable time to plan and resource sustainably.
We would also like to take this opportunity to extend our heartfelt thanks for all the public support and donations which go directly to the care of our parrots. Quite simply, we cannot express how much we appreciate your kindness and generosity. We couldn't do it without you.
We hope that you will continue to support us and even join us to provide the best care for these beautiful animals! We will continue to provide updates here on our website, Facebook and via our sponsor newsletter. Until then, please do not hesitate to contact us if you require any further information. With our sincerest thanks for your continuing support.
Kind regards,
The Directors
Parrot Trust Scotland is a registered charity (SC041254). It achieved charitable status in October 2009.
Meet the Directors
Karen
Karen has a professional and managerial background. She has two re-homed macaws and is proactive in general public awareness and education regarding parrot welfare and wellbeing. She also supports the conservation of endangered parrots.
Iain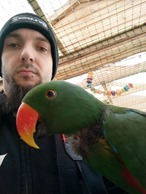 Iain works in the chemical industry and is owned by an african grey. He enjoys photography, playing badminton and watching Ice Hockey.
Becky
Becky is an avian and exotics vet who enjoys treating and spending time with parrots of all sizes. Currently, she has two caiques and a lovebird as well as a menagerie of reptiles and amphibians. Becky is passionate about education and improving the welfare of our captive parrots. She enjoys wildlife watching, travelling and doing Yoga.
Nancy
Nancy has just retired from Local Government. She has had parrots of her own for over 30 years. She also has 4 rescue corvids. She is passionate about promoting avian welfare, behaviour and education.
Sue
Sue is a healthcare professional & manager. She is passionate about the welfare of birds and animals of all kinds. To relax Sue enjoys running outdoors and is an avid armchair fan of professional cycling.
Allan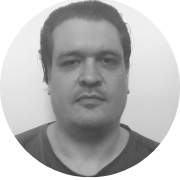 Allan works in the cyber security industry, and currently owned by a double yellow-headed Amazon parrot. Allan enjoys building Lego Technic sets, sound production and dabbling in electronics for home automation.
Parrot Trust Scotland works with other charities and sanctuaries, not only in the UK but worldwide. Here are some such organisations, please feel free to visit.